---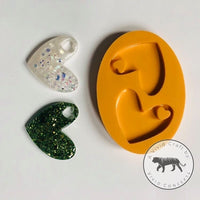 THIS IS A GRADE B MOLD MEANING IT HAS SOME IMPERFECTIONS.  IN MOST CASES, A DOME LAYER WILL HIDE ANY IMPERFECTIONS IN THE FINAL PRODUCT.  THIS IS A LOWER PRICE BECAUSE OF THE IMPERFECTIONS.
Silicone Mold of a Heart within a heart with slightly rounded edges
Each Heart is 1.75" at widest point
Includes 2 "double hearts" as shown in photo 
Hole for key ring 
Silicone is Food Grade and can be used with chocolates. Once used with resin or epoxy, it should not be used with food. 
Cavity is 1/4" deep. Mold is approximately 1/2" deep